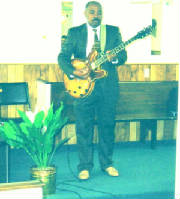 PASTOR NOBLE COOPER, JR
Pastor Noble Cooper, Jr. is a leader, veteran, musician, and recording artist. He is the eldest son of great pioneers of the church, Supt. Noble and Missionary Dorphine Cooper. He graduated from high school in East Texas from Crockett High School in 1970.
He attended Houston's Texas Southern University from 1970 to 1972 at which time he attended church at the Williams Temple COGIC where the pastor was Bishop R.E. Woodard. Cooper was an active member of the Williams Temple COGIC Mass Choir. He was also a member of the COGIC organization on the TSU campus. Pastor Cooper became interested in the Coast Guard and soon joined the United States Coast Guard in 1974. He was stationed in Honolulu, Hawaii for approximately five years. At this time, he was an active member of the Peaceful Church of God in Christ under Pastor Mays' leadership.
Pastor Cooper met his wife Ms Jennifer M. Booker in the latter part of 1977. Pastor Cooper and first lady, Ms Jennifer Booker married in November of 1978 and transferred back to Texas to start a new life together. Ms Cooper was stationed at the Naval Air Station in Corpus Christi. In Corpus Christi, Pastor Cooper and Ms Cooper were active members of the Shiloh COGIC under the leadership of Elder Daniel Robertson. Two sons were born while they lived in Corpus Christi: Noble lll and Norman Cooper. Pastor Cooper then transferred to Houston, Texas for a short stay and then on to Austin, Texas. Pastor Cooper attended the Mckinley Heights COGIC in Austin. Three years later, God blessed Pastor Cooper with a great employment opportunity to transfer his family to Germany by way of Leavenworth, Kansas. Pastor Cooper and family spent five years in Germany. Their last son, Nathan, was born in Germany. While in Germany, The Coopers attended the Free For All COGIC under the leadership of Pastor Roland Johnson until his departure. They served under Pastor Earl Peterson's leadership after Pastor Johnson departed. Pastor Cooper was elevated to Deacon under the leadership of Pastor Peterson.
Being led to move back home to Texas, Pastor was given the opportunity to move to San Antonio in 1993. In San Antonio, The Coopers attended the Joy Temple COGIC under the leadership of Pastor Duane Hammond. The spirit of God moved upon Pastor Cooper at this time and he accepted his calling into the ministry in the year of 1995. Pastor Cooper preached his first message at the Galilee COGIC in Huntsville, Texas under the leadership of his father, Supt Noble L. Cooper, Sr. Living in San Antonio, Pastor Cooper placed his membership at the East End COGIC under the leadership of Elder Ervin and Elder Flye. When Pastor Kenneth Flye started his own ministry, Pastor Cooper served as his Assistant Pastor at Inspirational COGIC. Pastor Cooper's tenure was 11 years as Assistant Pastor.
God opened up a door for him to serve as a Pastor/leader for the Christian Fellowship Ministries Church in Dickerson, Texas. Pastor Cooper has made some wonderful changes and brought in new people for Christian Fellowship Ministries and he continues to bring joy to the community. His wife, First Lady Jennifer, is eloquent, smart, and so full of the Spirit of God. Her messages are life-changing and profound. She and Pastor Cooper complement one another. Their children, three sons, are smart, gifted, and talented graduating at the top of the class with awards, honors, and scholarships. Christian Fellowship Ministries Church is blessed beyond measure to have The Coopers. We thank God for them. May God continue to bless them in the ministry of Christ to the utmost.