WHAT I HAVE BEEN UP TO:
GOSPEL CD'S and BOOK PROJECTS
"God Sent Me An Angel" - Writer of Lyrics and vocalist for song "We Give the Glory"; backup vocals; The Durden Singers, 2000.
"The Lord is My Shepherd" - Writer, Producer; featuring music by The Braxton Brothers; BMG Music Publishing contract established for Arranger Agreement, 2003.
"Detours to Destiny" - One of two books published May 2005 is described as many books in one, an anthology, a revelation including some Poetic Prophetic Poetry pieces, 2005.
"Detours to Destiny: Prophetic Poetry" - Second of two books published May 2005 which includes different types of unique God-given Poetic Prophetic pieces full of divine revelations.
"The Lord is My Shepherd" - The Full CD recorded live at the Evangelist Temple Church in Houston, Texas; Featuring the Cooper Cousins Guitar Jamboree; Good Shepherd Productions; Soon to be released, 2005.
"The Best of the Blessed" - A new CD Compilation produced by 2 Blessed Music Group of Florida - scheduled for release June 30, 2006!
"3000 RECORDS" - A new CD Compilation "indie360" to be released in 2006!
Singing with the awesome Bishop's Choir!
Potters House of Dallas, Bishop T.D. Jakes
While attending the Potter's House, God enriched my life tremendously. Pastor Jakes prayed for me in an unusually anointed service in which God would not let him preach, but God told him to anoint certain people with supernatural ministries. This night, he prayed for me and God moved in such a miraculous way. Something new was birthed in me.
GOSPEL CD's
Presently working on the CD project entitled, "Get Over It" with the Good Shepherd Productions, featuring Five Cousins Guitar Jamboree, Jackie Bennett, & Dee Cooper-Durden. CD's debut is projected for January 2005.
Single CD debut, "The Lord is my Shepherd" 2003, a success. BMG Publishing entered a Musical Arranger Agreement with me for my lyrics for this song. The Braxton Brothers accompanies with all the music.
Live Recording, Evangelist Temple, July 10, 2004 a success. Good Shepherd Production is now correcting, mixing, and fixing. Jackie and I have already been in the studio - the music and sounds are coming out great! Be ready for a complete SURPRISE!

DETOURS TO DESTINY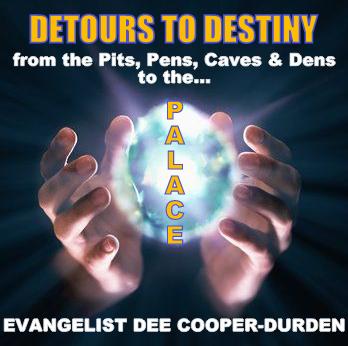 Dee Cooper-Durden (CD Inside Notes)
THE RECORDING PROJECT WITH
THE DURDEN SINGERS, 2001
Every Friday night, we went into the studio (Sharon, Debra, Judy, Christy, Mama Durden, Albert, & Larry) and we remained there sometimes late into the nights recording.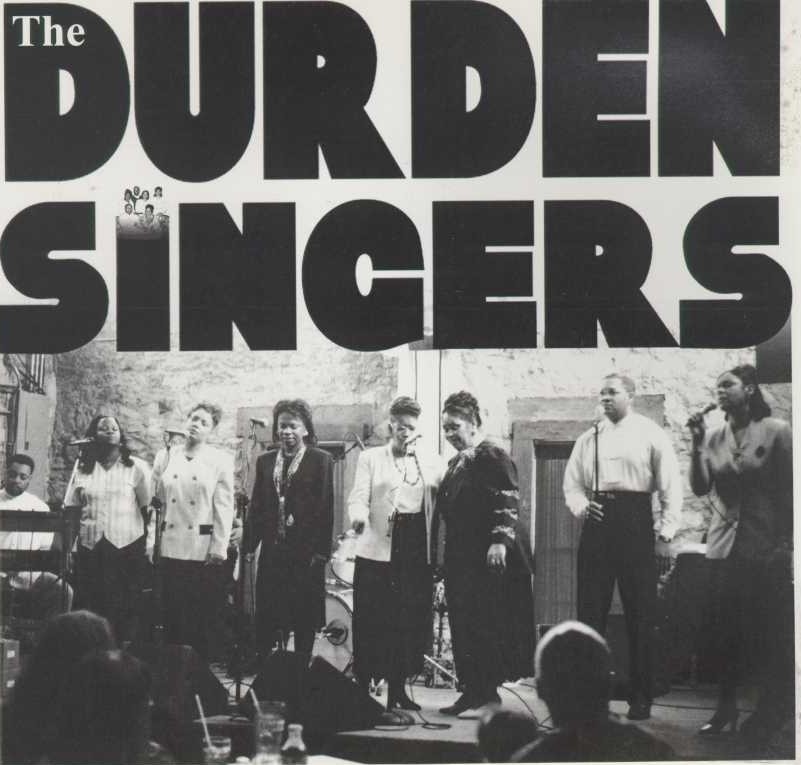 Dee singing Live with the Durdens at Stubb's Downtown
Sunday Brunch
THE INSPIRATION FOR SONG#1: "WE GIVE THE GLORY"
One Saturday night, I wanted Albert, Larry, and Christy to hear this new sound and new song I had written for the song "We Give the Glory". My brother-in-law, Larry had asked me to help him with the song because all that he had was a verse, "We give the Glory to the Mighty God, We give the Praise to the Holy One".
I described the sound to Albert calling it Zydeco. He and Anthony caught on right away as I knew they would. I began to sing the song. It was brave of me to present this for it was a very unusual sound.
I thank the Durden Singers for placing this song on the "God Sent Me An Angel" CD with my voice, input, and ideas. And to my surprise, it is the first song on the CD. I hope that this song has been and still is a blessing to others, for it has been a blessing to me as I move forward to produce my own CD as God leads and directs me.
A Recent Article on "WE GIVE THE GLORY" with my husband, bassist, Anthony Durden
The Austin Chronicle
2004 ACL Fest Guide
September 17
The Durdens
1pm, Capital Metro stage
While many gospel acts at ACL are firmly rooted in the R&B-leaning styles of the Forties and Fifties, the Durdens ply this territory with a nod toward contemporary pop. Vocalist Larry Durden's warm, ingratiating stage personality makes you feel right at home, while bassist Anthony Durden keeps it funky on uptempo numbers like "We Give the Glory." The Austin-based family group has been singing for 27 years, and their latest CD, New Day, came out this summer. – Greg Beets